The beginning of a new school year 2021/2022 is approaching quickly. We encourage you to start preparing early. By using all of the tips from this article, switching from the holidays to school mode is going to go swiftly and without any issues. Try to focus on the positive sides of returning to school and who knows, maybe this year will be exceptional!
Beginning of the school year 2021/2022
In Poland, we will traditionally start the next school year 2021/2022 on September 1, 2021. We will meet our friends face to face again and we will be able to return to stationary classes. But before we start the lessons, it's worth preparing properly.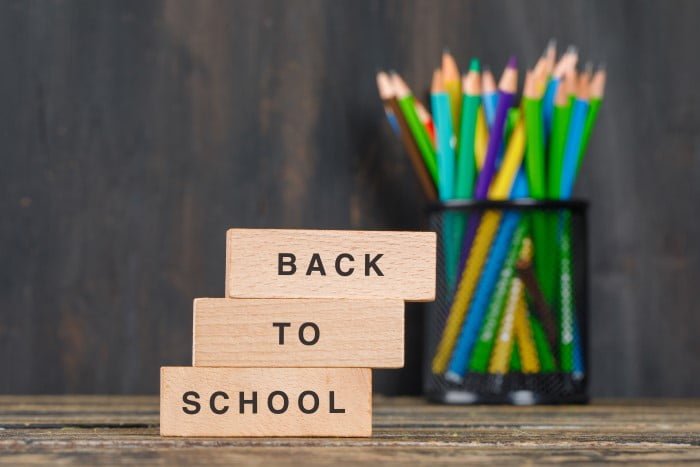 How to prepare for going back to school?
Everything that's good comes to an end. Holidays are a time when a temporary change of a lifestyle, stress reduction, charging up mental batteries and pleasant time spending happens. Compared to the school year you don't have a set schedule for the day, you forget about waking up in the early mornings and can go to bed as late as you want. At the end of this peaceful period you need to try to make the switch between holidays and school as smooth as possible. At the beginning of September often you can be in a bad mood, therefore to avoid that you should prepare appropriately for the return to school.
Body clock
Waking up during the first days of school is really tough, that's why it's best to change your habit of going to bed late and start waking up early. You can take it step by step where you wake up 30 minutes earlier and go to bed 30 minutes earlier. That way in just 4 days you can wake up 2 hours earlier. Definitely don't wait around and change your rhythm before the beginning of September.
Plan of action
It is good to think about what the schedule of a day will look like in the new school year . A thought out schedule can help you decide the proper hierarchy of your school responsibilities and domestic duties while allowing you to complete them as needed. You can change your plan on the go and not expect from yourself to take care of everything at once. You can avoid unnecessary frustration when you take on too much at once and you can't meet your expectations. Changing up your daily order of things day by day will let you take care of chores and enjoy pleasures. Adjust to everything having its own set time and it'll be easier for you to plan out your time during the beginning of the school year.
New goals
Process of reaching your set goals is a period of active action which is better used in comparison to times when we act without a set idea. Deciding on a plan of action will help you get closer to achieving your goals. Tasks for the new school year can strictly focus on learning like getting a better grade from physics or taking part in a contest. A list of your tasks shouldn't be missing goals related to your interests, for example improving your sport results or learning to play a new instrument. Remember that goals are something different than dreams. They must be possible to reach, by consistently going after them you'll eventually realize them. Quality over quantity also matters. Note down realistic goals on your list and check at the end of the school year if you managed to achieve them.
Only positives
Think of the positive side of the return to school. You will be able to learn new things which will make you smarter. Maybe you'll meet an interesting person who will become your new friend or the love of your life. You'll finally meet up with your friends from the class with which you'll have fun times. You'll take part in school events or student fairs. You'll join a group of people who have similar interests to you. It's likely that this year you'll find a new passion thanks to which you'll realize your dreams. Analyze it closely and go into the new school year with a positive attitude, ready for change, without looking for negatives.
September
After earlier preparations it's time for specific duties before the beginning of the school year which you cannot leave for the last moment. Here's a list of topics to consider:
Shopping – you'll most likely need to go to the store to get yourself a pair of shoes for school, an outfit for P.E. when the old one turns out to be too small, notebooks or necessary textbooks. It is worth thinking about where and how you can buy these things cheaper. Find a person with a good selection of textbooks. Think through what else you might need and what is worth buying. Plan out your expenses in order not to hurt the family budget too much;
Plan out your first day – prepare your outfit for the first day in the evening of the previous day. Think at what hour you have to wake up to eat breakfast and make it to school on time without rushing. Get to know your timetable and try to predict how long it'll take you to go between classes which is quite important if you go to a large school. You can avoid getting lost in the hallways, confusing classes and unnecessary explanations;
Give yourself time – do not immediately sign up for additional classes. Firstly adjust to your daily responsibilities and new day rhythm and only then plan out your free time;
Make a good impression – on the first day show that you're a systematic person who does their homework and revises the current material. Do not avoid lessons and be punctual. Only this much is required to build good relationships with the teachers;
Be yourself – do not pretend to be someone else, be natural from the get go. Don't try to prove to others you're better than them and don't show that you feel worse than others. Walk into the school with a smile on your face because it's the easiest way to make people like you.
Time to go back to school
Taking all of the tips above into consideration, switching from holidays to school mode should be smooth and without any problems. Try to focus on the positives of going back to school from the start. Set yourself to be ready to work systematically. Treat each failure as a new experience on the road to success. Don't stress yourself out with setbacks, move forwards – for new adventures, friendships and most importantly knowledge. Good luck!